THE LAWNMOWER WORKSHOP - NOW MAIN AGENTS FOR COBRA and AMS ROBOTIC MOWERS

is a professional business in Berkshire providing ride on and other types of lawn mowers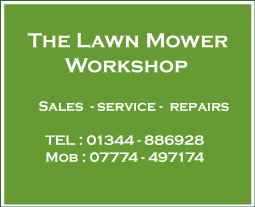 for sale. We can also carry out repairs and servicing on all makes and models of lawn mower.

We have been established for 30 years in Berkshire offering a quality service for all lawn mowers including ride on models. We can undertake servicing and repairs for both domestic and commercial customers to get your mower working like new again.

RIDE ON MOWERS

Those with a large garden may wish to make their lawn mowing chore easier by getting a ride on lawn mower. Small lawns are easily taken care of with a power lawn mower but this may not be suitable for a larger lawn, whether itís for commercial or domestic.use. Ride on lawn mowers also have the effect of making mowing the lawn more fun! They are a great investment for any size of lawn to save you a great deal of time and effort.


Call The Lawn Mower Workshop on 01344 886 928 for more details!